Here is a fantastic online sportsbook and casino and one of the leading betting sites for the development of Crash Stake.com as part their "Stake Originals" series, Stake Crash is a unique multiplayer game that is similar to playing Aviator by Spribe, the stock market and predicting when the right time is to cash out.
With Crash being such a unique game, this Stake Crash guide will explain how does Stake Crash work on Stake.com casino and explain how you play Crash on Stake. Equally important, this guide provides you with information about its special features, max bets/max wins, and even some Stake Crash betting strategies.
---
How to Play Crash on Stake?
Now that you know how does Crash work on Stake, it is not hard to learn how to play the Stake Crash game. In fact, like the other exclusive games found at Stake, Stake Crash offers several basic controls that can be found beside the game board. The first of those is the "Bet Amount", and the second is the "Cashout At".
The Bet Amount is where you enter the amount you want to wager, and it includes the option to multiply your bet by half or double it. Below the bet amount, you will find the "Cashout At", this is where you enter the number the yellow line must climb to before you win. Now, the lowest "Cashout At" you can enter is 1.01, but you are free to enter any number you wish, as the more you stake, the more profits you can achieve.
Lastly, you will notice a "Profit on Win" box under the Cashout At. This informational control alerts you to the amount you can profit if you cash out at that point in the game.
So if you want to know how to play Crash at Stake, simply:
Enter the Bet Amount
Enter the Cashout At
Check potential returns at Profin on Win tab
Click "Bet"
Wait for the Next Round to start
---
How Does Crash Work on Stake.com?
Stake Crash is unlike any other casino game, and how it works is similar in principle to how the stock market works. Essentially, it is a guessing game whereby each round lasts only a few seconds, and it is your job to cashout before the game ends. This is the tricky part and what makes the Stake Crash game exciting as this game features a multiple that has infinite possibilities.
The game itself uses a simple graph with a horizontal line that displays the seconds that have passed and a vertical line that displays the multiplier set for cashout. The game also features a yellow line trajectory line that moves upwards until it crashes, and if that line passes the cashout number set before the game began, you win.
However, what makes this game exciting is that at any time during the game, you have the option to cash out early. The risky part of this is the multiplier is almost impossible to predict, so balancing the goal for profits and knowing when you cashout is the trick.
---
Crash Betting Limits and Max Wins
If you have played any of the other original games offered by Stake, you likely will be familiar with the betting limits and maximum wins. Like the others, the Stake.com Crash game can be played using crypto, and several other currencies, such as dollars and euros. While you likely will have a preferred betting currency, you can refer to the chart below to identify the relevant minimum bet, maximum bet and max win.
| Currency | Min Bet | Max Bet | Max Win |
| --- | --- | --- | --- |
| Euros | €0.01 | €100,000 | €1,000,000 |
| Dollars | $0.01 | $200,000 | $1,000,000 |
| Bitcoin | 0.00000001 BTC | 100 BTC | 5 BTC |
| Litecoin | 0.00000001 LTC | 3,000 LTC | 300 LTC |
| Ethereum | 0.00000001 ETH | 1,000 ETH | 150 ETH |
| Bitcoin Cash | 0.00000001 BCH | 1,000 BCH | 100 BCH |
| Tron | 0.00000001 TRX | 10,000,000 TRX | 1,000,000 TRX |
| EOS | 0.00000001 EOS | 100,000 EOS | 10,000 EOS/td> |
| Ripple | 0.00000001 XRP | 1,000,000 XRP | 300,000 XRP |
| Dogecoin | 0.00000001 DOGE | 2,000,000 DOGE | 2,000,000 DOGE |
---
Crash Features
As we have mentioned, Stake casino Crash has a few unique features that are designed to be engaging and player friendly. However, those features relate more to game functionality moreso than traditional features seen in other casino games.
Auto Play
With the fast-paced nature of Crash Stake being what it is, the auto-play feature is a great option to maximise potential. For starters, it removes any risk of punters missing out on big multipliers, and second, it offers a ton of options. Expectantly, they the standards such as setting the bet amount, the cashout, and the number of bets. However, the auto-play also has options like Stop on Profit, Stop on Loss, Profit on Win, and several others suitable for continuous play.
Mid-Round Cash Out at Any Time
The mid-round cash out at any time option lets you determine the fate of your bet and the Stake crash odds of its success. Essentially, this option lets you cash out at any time after the game starts and before it crashes. If opting to use this feature, it can be used to manage your bets and bankroll, but it can also be used to increase your profits based on the trajectory line multiplier.
Stake Crash Multi-Player
One of the exciting things about Stake Crash is its status as a multiplayer game. Much like Stake's other original games, you can join in with hundreds of other players as they attempt to cashout and maximise their profits. Moreover, as you play, you can see when other players are cashing out and attempt to time your own cash out with their or take your chances in an attempt to top the cashout board. Furthermore, you can see which currencies other players are punting, when they cashed out, and the amount of profit they won after each round.
---
Is it Possible to Play Crash for Free in Stake?
In case you are curious if it's possible to play Crash for free at Stake, the answer is yes, but not in the conventional sense. To play Stake Crash for free, you will need to open an account, but that should be expected as Stake is a licensed betting site. Thereafter, simply choose your desired currency, set the bet amount and click the green "Bet" button. The Demo mode will not wield any real returns. It is just play-for-fun game.
---
Crash Strategy for Stake Casino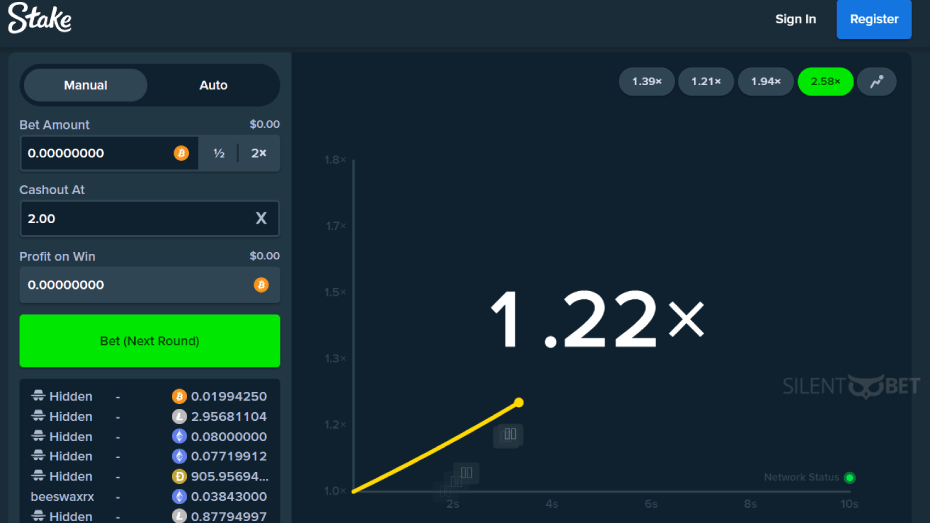 With results in Stake Crash being decided by a random number generator, you do not have many strategic options at your disposal. However, by gaining an in-depth understanding of the game's mechanics, a few strategic suggestions can help lead to better profitability.
#1 Be flexible with the Bet Amount
The bet amount is a critical element of playing Crash and one that impacts your profitability. Therefore, be flexible with the bet amount as you never know when the trajectory line will climb above your "Cashout At" amount.
#2 Alternate the Cashout At Amount
Due to the unpredictability of the trajectory line, alternating the cashout between 1x and 10x is an effective betting strategy that allows you greater freedom at maximising your profits.
#3 Consult the Cash chat board for tips
Playing a social multiplayer game like Crash by Stake Originals means you are not on your own. Hundreds of other players bet along you. So consult the board for tips or the perfect time to cash out.
---
What is The Best Crash Stake Alternative
As we have already mentioned the Crash game resembles another very popular game online. We mean the Spribe original title Aviator – a multi player game. The idea with Aviator by Spribe is that you try to guess when the plane will take off. This is similar to the guessing game at Stake.com casino – trying to cash out before the crash takes place.
---
FAQs about Crash by Stake
Does Stake have Crash originals game?
Yes, Stake casino has a Crash original game similar to Aviator by Spribe.
Are the betting limits for Stake.com Crash suitable for beginners?
Yes, the betting limits for Crash are suitable for beginners and likewise are suitable for seasoned bettors for want to make more risky bets.
How do I download the Stake Crash predictor bot?
You can download the Stake Crash predictor bot by visiting the crash predictor stake bot page.
Which currencies can I use to play Crash Stake?
Fortunately, Stake Crash is compatible with each of the currencies accepted at Stake. This includes Bitcoin, Ripple., Ethereum, Dogecoin, EOS, Tron, Litecoin, USDT, Euros, Cad, and several others.
Is Stake Crash tied into the stock market?
No, Stake Crash is a random number generator game that is not associated with the stock market in any way. Stake crash statistics are used by players only.
---