Betting on sports like MMA might not be everyone's cup of tea, but punters know that this sport offers good odds. The UFC is the biggest MMA organization, and since Stake is its official betting partner, people choose this cryptocurrency betting website.
The Stake.com UFC options are better than those found on other websites. Bettors just need to sign up, and they will have access to loads of markets and competitive odds. In fact, let's learn more about this sport accessible on Stake.
---
What are the Steps for Placing a UFC bet?
The steps for placing a UFC bet are as follows: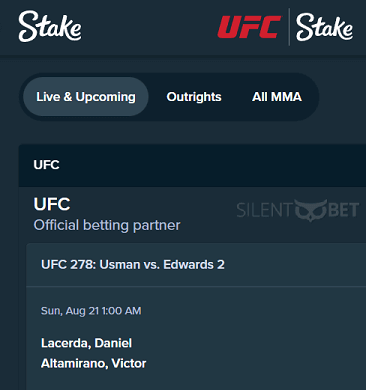 First, you need to go to Stake.com and sign up.
Second, check the deposit page and choose your preferred payment solution.
Third, go to "Sports" and select MMA or use the option in the "Top Sports" category.
Fourth, skim through the available UFC Stake.com events and check the available markets.
Fifth, decide which one you want to bet on, add the market to your betslip and place your bet.
Since there are not that many UFC events to bet on, don't be surprised if there are not that many options to pick from.
---
Are There any Special Requirements?
No, there are no special requirements to avail yourself of the Stake UFC betting options. All you need to do is have an existing account and available funds to place your bet. Having said that, there might be some specific requirements if you decide to use one of the available bonuses.
Since Stake.com is one of the top-tier international bookmakers, the company provides an impressive range of propositions. Usually, there is at least one reward for betting on UFC that might require you to do something specific and follow the T&Cs. For example, you may have to select a specific market or bet a certain amount of money.
---
Stake Casino and UFC Partnership
Although people may think that Stake only has a sportsbook, the operator also offers an amazing online casino. The latter allows gamblers who get bored of sports or wait for a given UFC event to experience many options. They can play slots, live casino games, exclusive in-house titles, and more.
Another thing we've mentioned a couple of times about Stake UFC is that the bookie is the organization's official betting partner in Asia and Latin America. Thanks to that, the operator can provide its clients with more markets, better odds, and loads of promos.
Stake's Sponsorships With the Leading MMA Fighters
Aside from the UFC Stake sponsorship deal, we have to mention that this bookie also works in conjunction with some of the top fighters in the world. Once you open the company's homepage, you will find names like Israel Adesanya, Jose Aldo, and Alexa Grasso. Needless to say, all three are among the biggest names in combat sports.
---
FAQs
How many Stake MMA options can I bet on?
The number of Stake MMA options you can bet on depends on whether there is an upcoming UFC event.
Can you bet on the UFC on Stake using a mobile device?
Yes, you can bet on the UFC on Stake using a mobile device because the bookie offers a mobile website version.
Is it possible to place bets on UFC 276 or any of the other versions?
Yes, it is possible to place bets on UIC 276 and the other versions, and you may even have access to live betting markets.
---