Like almost every other betting site, Vbet offers apps for its customers to download, so that they can continue to bet on the go. This is free and designed to be used on both Android and iOS devices so that almost everyone can take advantage of this. The apps offer every service that is available on the Vbet website, in a functional and easy to use way.
How to download the Vbet Android app
Although Vbet offers a downloadable app version of its' site, this is not available in the Google Play store. Alternatively, customers must download it from the Vbet site directly. This is a simple enough process. It just requires a few more steps.
Start by locating the download button. This is at the bottom of the website, on every page, and displays the familiar Android logo.
This will allow you to begin the download process of the app, which is in a .apk file.
---
How to install the Vbet Android app
Before the app can be fully installed on any Android device, the settings must be changed in order to accommodate this file from an unknown source. Again, this is easy to do. It just requires more effort.
Step 1: First, go to Settings, then click on Security. Enable Unknown Sources, which allows you to download apps from places other than the Play Store.
Step 2: Then, just click OK. Now when you download the app, there should be no issues, you can open it, register or sign in, and continue to bet.
Step 3: It should be noted that when enabling downloads from unknown sources, always to exercise caution. Vbet is a secure site, and the .apk file you will receive is an official download from Vbet that will not harm your device.
---
How to download the Vbet iOS app
Downloading Vbet on iOS is even easier than downloading it from Android devices.
Step 1: You can choose to follow the link from the website again, which can be found at the bottom of the screen on the site. It will take you directly to the App Store, and show you the correct app to download.
Step 2: It should be noted that if you follow the link from the website, it takes you to the "Sportsbook by Vbet" app. Vbet created different apps for different forms of betting – sports, casino, live casino, and poker.
Step 3: So, while it is recommended that you follow the link from the site to make sure you download the correct app, you must search the App Store if you are looking for anything that is not the sports betting app.
Step 4: After you have chosen the Vbet iOS app that you like, click the "Get" button to download it on your iPhone or iPad.
It is easy enough to tell what are legitimate Vbet apps, as they all have a distinctive purple gradient background with a white logo.
---
How to install the Vbet iOS app
In order to install the Vbet app, you do not need to do anything beyond download the app. It will install onto your device automatically once you download it from the App Store. All you need to do is open it when it has finished downloading, sign in to your existing account (or create a new one), and begin to play.
---
Is Vbet Mobile App Free?
Yes, the Vbet mobile apps are completely free for both Android and iOS devices. So do not expect a download or installation fee. If a site advertises the Vbet application and charges players for getting it, then steer clear as it is most likely a scam, a corrupted APK file, or both.
---
How to use the Vbet app
The Android app is used in the same way as the official desktop Vbet site. The iOS apps are used slightly different because there are several different certified Vbet apps, all of them separated by the betting market. So each app is tailored to a specific type of betting, such as sports or casino gambling. Punters can log into the app using their username and password, and begin to play. Users can use the same login as they would use for the main desktop site. You can browse the different types of sporting events/games to play, and the different types of bets that can be made. You can also use the app for activities such as depositing and withdrawing money, as well as claiming and redeeming bonuses.
---
Vbet Mobile Version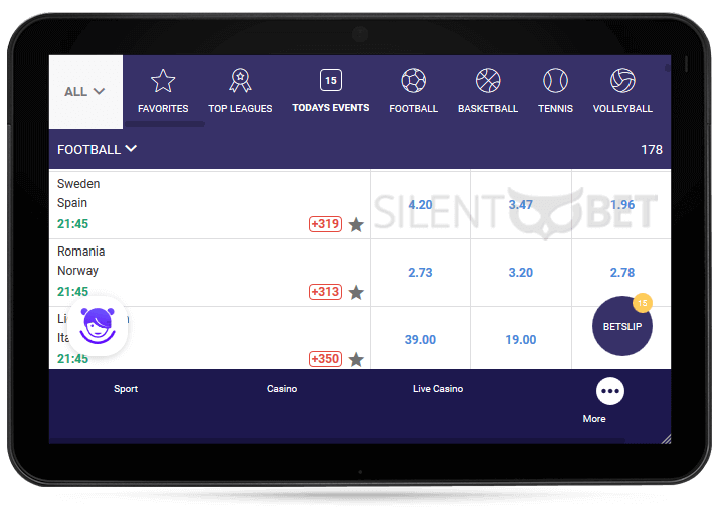 Vbet also offers a mobile version of the desktop website that is tailored for use on mobile devices such as phones and tablets. It functions exactly the same as the desktop version, allowing users full access to all of the functions. The only visual difference is that there is a ribbon along the bottom of the screen displaying icons for sport, casino, live casino, and more. This makes it a lot easier to switch between different betting markets so that punters can play with minimal interference from parts of the site that they are not interested in.
If punters wish to access the mobile version of Vbet, all they need to do is type the name of the company into their search bar. The site will automatically switch to the mobile version as soon as it recognizes that you are using a mobile device – you do not need to change the URL manually.
---
Benefits of Vbet Mobile
There are many benefits to using the mobile version of the Vbet website, as opposed to downloading an app. The most significant advantage is that when it comes to the mobile site, everything is in one place. You can access all of the sites from the mobile version, and place bets on different markets with ease. When it comes to mobile apps, everything is separated into different apps. If you wanted to place sports bets and then bet on a casino slot game, you would have to exit out of the sports betting app and enter the casino app.
Another benefit of the mobile website is that it does not require any downloading. This is great for devices that do not have the storage capacity to download a betting app (or multiple betting apps).
---
App features
Different features are a part of the Vbet apps that are designed to make the experience of betting as easy and enjoyable as possible. Here are some of the more notable features:
In-play mobile betting
Traditionally, betting on events had to be placed before the event had started and could not be changed. However, with in-play betting, punters can bet on events that have begun, and with odds that change to reflect what is happening within the game. Punters can often also change their bets if they wish, so they have a higher chance of winning because they are betting based on the knowledge of what is happening, as it happens.
Cash Out Option
If you have high odds at the moment, but you are concerned that an event is about to flip and you might lose your bet and all of your potential winnings, you can choose to cash out. This allows you to close your betslip early, and take winnings based on odds at that moment, regardless of the final outcome of the event. While this is not available on every game that Vbet has, it is offered on those that are marked with a ($) symbol.
Live Streaming
This allows users to watch coverage of sporting events live through the app. This is perfect if the punter is not home, or does not otherwise have access to a television, where they would be able to watch the event. It is also great for international games that might not otherwise be freely televised. Even though live streaming is done through the mobile app, it is still relatively high quality compared to some of the other apps that offer live streaming. To access the live streaming services in the app, you must be logged into your account, and you must have funds in your balance.
Mobile Poker
Vbet dedicated an entire app solely to poker playing so that you have the best experience possible. Search for "Poker by Vbet" on the app store to download and play. From this app, you can access all of the promotions that Vbet runs that are dedicated to poker, as well as an informational section that explains all about how to play. The app promises 24/7 support, and several different tournaments and cash tables to choose from.
---
List of Vbet Apps
Let's take a closer look at the apps available for download and install on two of the most popular operating systems, namely iOS and Android.
Sports thru Android
With as many as 40 different sports types at the disposal of punters, Android users will have all the fun in the world choosing from the various markets that come with great odds.
Sports betting on iOS
Owners of iPhones and iPads can take advantage of features such as Quick Bet and Super Bet when opting for mobile sports betting thru Vbet. Combine these options when wagering on popular international and local tournaments.
Mobile Casino thru Android
Spin any of the many slot titles tham make up the mobile casino at Vbet or opt for video poker or card games such as Baccarat, Blackjack and more. Everything is easy with just a few taps on your Android.
Casino thru iPhone or iPad
Launch Vbet mobile casino on your iOS device and try the games for free in their play-for-fun mode. Hone your skills and build up your confidence before having to bet for real.
---
Vbet mobile app VS Vbet mobile version
There are several different pros to both the mobile app and the mobile website. To help you decide which one is better for you, here are two comparison tables of pros and cons:
Vbet Mobile App
Pros of Vbet mobile app
Streamlined content that focuses solely on one form of betting (for iOS only)
Often faster than the mobile site
Free to use
Cons of Vbet mobile app
Requires downloading
Android app can be somewhat challenging to download
iOS users must download multiple apps if they are interested in more than one form of betting
Vbet Mobile Version
Benefits of Vbet mobile version
Does not require downloading
Offers everything that the full desktop site does
Free to use
Works with all smart devices, not just Android and iOS
Downsides of Vbet mobile version
Can lag slightly compared to the app
---
System Requirements and Compatibility
As already mentioned, mobile apps are only compatible with Android or iOS devices. This means that windows devices cannot utilize the mobile app.
Android devices that use Android 4.0.X or later will be able to accommodate the Vbet app. There are a number of different brands that use the Android software that is compatible with this app, such as the Samsung Galaxy S8, the Moto G5, and the Huawei Mate 10.
iOS devices that are running on iOS 8 or later will be able to run the Vbet apps. Apple devices such as the iPhone 6 or later, or an iPad that uses one of the latest versions of iOS will be able to run the apps.
Here are just a few of the phones that can run Vbet mobile version.
iPhone 6 and above
iPad Air
iPad mini
Samsung Tab A
Samsung Galaxy S6 and S6 Edge
Sony Xperia ZA
---
Vbet Mobile Bonuses
Unfortunately, Vbet does not currently offer exclusive bonuses for using its app or mobile site. Despite this, punters can still access all of the bonuses and promotions that are available on the main website, or either the app or the mobile version of the site. These bonuses can be claimed and used just as they would on the main site.
---
Mobile Payment Methods
There are a number of different payment methods that Vbet accepts so that punters can deposit and withdraw money in ways that are convenient for them.
| Paymenth Method | Deposit Minimum | Deposit Maximum | Time for Deposit |
| --- | --- | --- | --- |
| Visa | €1 | €10 000 | Instant |
| MasterCard | €1 | €10 000 | Instant |
| Neteller | €1 | €10 000 | Instant |
| Skrill | €1 | €10 000 | Instant |
| EcoPayz | €1 | €10 000 | Instant |
| Paysafe Card | €1 | €5000 | Instant |
| Sofort | €1 | €5000 | Instant |
| GiroPay | €1 | €5000 | Instant |
| Rapid Transfer | €1 | €5000 | Instant |
| Paymenth Method | Withdrawal Minimum | Withdrawal Maximum | Time for Withdrawal |
| --- | --- | --- | --- |
| Visa | no limit | not stated | 1-3 days |
| MasterCard | no limit | not stated | 1-3 days |
| Neteller | no limit | not stated | 12 hours |
| Skrill | no limit | not stated | 12 hours |
| EcoPayz | no limit | not stated | 12 hours |
| Paysafe Card | no limit | not stated | 1-3 days |
| Sofort | no limit | not stated | 1-3 days |
| GiroPay | no limit | not stated | 1-3 days |
| Rapid Transfer | no limit | not stated | 1-3 days |
EcoPayz, Neteller, Skrill, MasterCard, Visa, Paysafe Card, Sofort, Rapid Transfer, GiroPay
EcoPayz, Neteller, Skrill, MasterCard, Visa, Paysafe Card, Sofort, Rapid Transfer, GiroPay
---
FAQ's
Why download Vbet mobile app?
What if it is not working?
What if it won't install?
Is it possible to change the odds from fractional to decimal at Vbet?
Can I fund my account using the Vbet Android app?
Can I redeem a welcome bonus from the app?
Is the Vbet app available on the Google Play Store?
---
Company Information
Vbet has been around since 2008, and for this time the brand has managed to cement its positions on the iGaming market. It currently holds a valid license meaning it can operate in several countries in Europe.
The brand focuses on the variety of sports markets and high-quality gameplay for the joy of its bettors. Despite the somewhat complicated bonus terms, the operator has a varied reward system in place ensuring that all punters will receive a promotion tailored for their needs.
---
Conclusion and Mobile Rating
The Vbet apps are easy to use and make betting online a smooth and enjoyable process. The fact that the apps are split by betting category for iOS means that bettors can only browse through sectors that they are interested in, without wasting data or memory space on betting markets that are unnecessary to them.
Although Vbet has existed for a long time, they are slower than some of their other counterparts to engage with mobile betting fully. Many sites offer mobile bonuses to encourage users to download and play on apps, which is a mutually beneficial activity for both parties. Many betting sites are also looking to make their apps more inclusive and functional on Windows devices, as well as Android and iOS.
In saying that, the apps are of high quality, and provide everything that the main website has to offer. Punters are not missing out on anything, and have the added bonus of now being able to play wherever and whenever they want.
---
Related Articles