Ad disclosure
SilentBet (SB) is proud to be the partner of numerous renowned casinos and bookmakers around the world. As such, we do use affiliate links to earn commissions (at NO cost to our readers whatsoever). These aff links help us stay a cut above our competitors, delivering top-notch content you can trust. Take a look at the
Ad Disclaimer
page for more information on our affiliate business practices.
WH radio means that you can get live commentary on top racing events as well as news and analysis. Listen to WilliamHill radio for Horse Racing and Greyhounds. There is also a special podcast for Will Hill radio as well. The radio covers racing livescore and news in real time as part of its internet radio station.
---
Horse Racing Radio Channel
The reputable bookmaker has been running for a long time, and for over 10 years, it's also been providing news, reviews, analysis and daily racing commentary. William Hill horse racing radio covers all races in the UK and a select few from Ireland too. You can also find international coverage of the biggest races from around the world.
The live stream of the William Hill radio starts 10 minutes before the first race of the day and keeps going until the last one has been run. See our table to find out which sorts of races are covered. Its key element – to combine offline data sources and online live scores to deliver an improved experience for punters.
Lots of people ask if Askot horse racing is on the william hill radio. This is the reason why we made a list of all horse racing events broadcast on WH radio live.
| 🏁 Race | 📌 Location |
| --- | --- |
| Cheltenham Festival | UK |
| The Grand National | UK |
| Scottish Grand National | UK |
| Royal Ascot | UK |
| Goodwood Festival | UK |
| Welsh Grand National | UK |
| Irish Derby | Ireland |
| Prix d'Arc de Triomphe | France |
| Kentucky Derby | US |
---
Greyhound Radio Channel
You can tune in to a separate channel to listen to the William Hill greyhound commentary. This coverage of WH radio is also live, and mostly concerns races run in the UK. You can hear all the BAGS (Bookmakers' Afternoon Greyhound Service) races from tracks like Newcastle, Romford, Doncaster, Kinsley, Oxford, Owlerton, Perry Barr, Nottingham, Sunderland and many more.
It's on-air throughout the week. You can listen live from 11 am until 10 pm via the William Hill betting site. Just click the WH Radio tab on the toolbar and choose between the different channels on the drop-down menu.
---
Other Ways to Listen to William Hill Racing Radio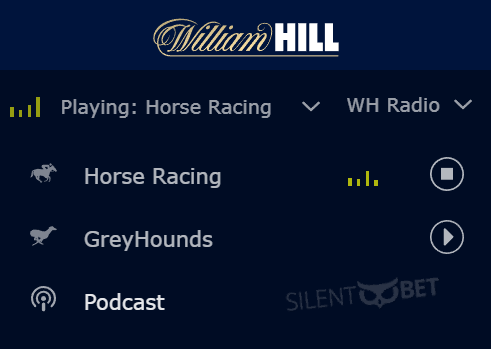 There are more ways to listen besides visiting the bookmaker's site. You can listen to it from its mobile app. Alternatively, you can use a streaming service, like Spotify, or a radio app, like TuneIn.
Listen to WH radio on Spotify
Listen to WH radio on TuneIn
Listen to WH radio on iTunes
Listen to WH radio on Tidal
There is also a William Hill TV on site we recommend where you can watch the races live.
---
William Hill Radio Mobile App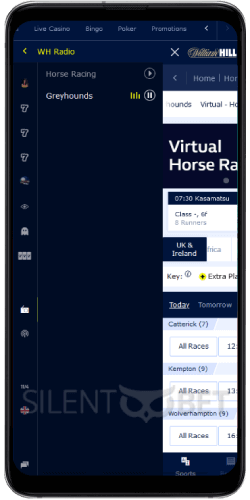 One of the most convenient ways to hear William Hill radio commentary is through the mobile app. You can download the William Hill mobile app directly from the Google Play Store or the Apple App Store onto your Android or iOS device.
How to Access the Radio Via the App?
Follow these steps to get access to William Hill radio via the app.
Search 'William Hill' in the app store
Install the free app
Once downloaded, launch the app
You can sign into your account to get access to the other features
Open the sidebar menu and tap 'Media'.
Choose 'Radio', and select the channel you want.
---
William Hill Naps Table
To accompany your William Hill racing commentary, you can check out the Naps table. A nap is a tipster's best tip of the day and they will only get one. The Naps table brings together several different tips across the different races that day. The table is updated each day before noon.
In the table, you'll see the Napster (person giving the tip), their profit margin for the current month and season, the name of the horse that's their tip that day, and, once run, the time and result. You can also see their form, with green Ws for wins and red Ls for losses. The last column of the table is a link to take their tip and bet.
---
How to Contact William Hill Racing Radio?
The radio stations are only two – for horse racing and greyhounds but they have one support team. To get in touch, follow William Hill radio on the socials or sent them an email.
You can interact with William Hill radio live through Twitter at @WillHillRacing or @WHtracksidelive. You can also email the broadcasting studio at studio@williamhill.co.uk, where you can even send in your own tips!
---
How to Resolve William Hill Radio Problems?
As William Hill radio is a live streaming service, it can sometimes get interrupted, and things can go wrong. Listening to your preferred channel could be an issue by using a poor internet connection.
You might also struggle to connect if your browser security settings or your firewall blocks access to the application. Your first check should be to see if your connection is strong. After that, check the permission settings on your firewall or browser to resolve any issues. The guidance below will help you identify the issue and give you steps to follow to rectify it.
Sometimes William Hill radio will not run if the transparency and consent framework is not ticked. So make sure you tick all consent boxes and terms and conditions to listen to the broadcast live.
What Are the Different Error Messages?
If you're trying to launch the radio and encounter some issues, you might see an error message on your screen. The error messages you see could include 'Server Can't Be Located', or it could state that your session has timed out. You might also see an error message that the file format is not supported or that the server too busy.
#1 Server Can't Be Located
You might get the error message that the server can't be located if you tune in to the service before it's live. It begins ten minutes before the first race of the day, so if you access it before that time, you won't be able to locate the stream. Try again later to listen live.
#2 Timing Out
If you're listening to an app on your phone, you might find that it times out or stops playing. That can happen when your screen locks, as the phone is idle. You'll need to set the app to run in the background so that it will continue to play.
#3 Not Supported File Format
You might not be able to play the stream if you get an error message saying that the file format is not supported. It could happen if you're using an app such as Spotify, TuneIn or William Hill sports betting. In this case, check for updates to get up and running again.
#4 Too Busy
If you receive an error message that the network is busy, there could be a few reasons behind it. Check that you have a good internet connection. If you've established that your connection is working well, restart the app or streaming service.
---
FAQs
If you're interested in listening to Will Hill radio, read these answers to common questions to find out more about it.
Where Can I Listen to William Hill Racing Radio?
You can listen to the horse racing channel from the desktop site, the mobile app, TuneIn or Spotify or here on Silentbet. Your phone or PC will automatically sent device characteristics for a better experience on William Hill.
How Can I Email WH Radio?
How Do You Get William Hill Radio on Alexa?
It's free to enable on Alexa. You can enable the skill via your Amazon account, then all you need to do is issue a voice command, such as "Alexa, play William Hill Racing Radio."
Does William Hill Offer Best Odds Guaranteed tips on the radio?
William Hill guarantees the best odds on all UK horse racing, and that includes Extra Place races and ways to extract insights. They're available from 10 am until the last race of the day. Tips may be included in the radio broadcast.
---