Ad disclosure
SilentBet (SB) is proud to be the partner of numerous renowned casinos and bookmakers around the world. As such, we do use affiliate links to earn commissions (at NO cost to our readers whatsoever). These aff links help us stay a cut above our competitors, delivering top-notch content you can trust. Take a look at the
Ad Disclaimer
page for more information on our affiliate business practices.
As many gamblers like to have an extra degree of control over their bets, the ability to 'cash out' has become an increasingly important feature. This very handy tool enables punters to end their bet early at a specified price, which is based on the live odds at the time. It is a feature you will find at most bookmakers these days, and Betsafe online cash out is no exception, with it being something they have long offered across many different sports and markets.
How to Cash Out at Betsafe?
To be able to cash out a bet at Betsafe, the bet must be on an eligible market. Most markets qualify, with Betsafe offering excellent coverage, but this is not always the case so it is worth paying attention should you plan on using the feature. To place a qualifying bet, follow the steps below:
Find a selection from a sporting market that has 'cash out' in green text in the top right-hand corner
Click a selection from within this market to add it to your betslip
You can add additional selections to your betslip and combine them into a double/triple/accumulator bet.
All of them must however come with this 'cash out' label. Should one or more not, you will lose the ability to cash out
After placing a qualifying bet, the ability to cash out will begin when the event (or first event in the case of a multiple bet) begins. It will end when either the event is over or when the bet (or one of the bets) is a confirmed loser. To cash a bet out between this time, the process is very simple:
Log in to your account and access your open bets
Select 'confirm cash out' or 'confirm' (a cashout request). There will be a price stated for this at the time, showing you how much you will receive should the request be accepted
Wait a brief moment for the cashout request to be denied/accepted. If accepted, which is standard, the money should show in your account balance immediately afterwards
---
What is Betsafe Cashout?
Betsafe do offer more than just your basic cash out in which punters have the ability to manually cash out the entire bet. All Betsafe cash outs must be done manually, as there is no auto cash out feature, but it is also possible to make what is known as a partial cash out.
Partial cash out
On selected sporting markets customers will have the ability to cash out Betsafe just some of their bet, while leaving the rest of the wager to run as normal. With this feature customers will have a sliding bar on qualifying bets, allowing them to choose how much of their original stake they wish to cash out.
Example: Say, for example, you placed a €10 bet. You could choose to cash in €5 of it at the offered price and let the remaining €5 to stand as normal, effectively hedging your bets.
---
Betsafe Cash-Out Terms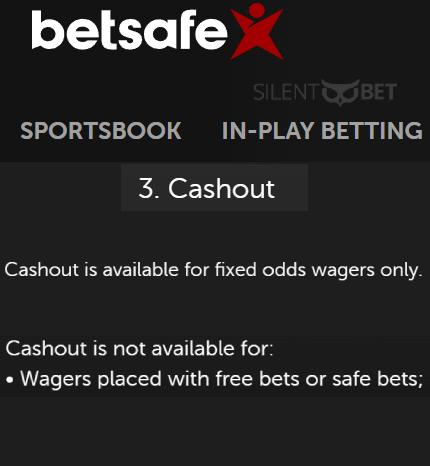 Cash out is such a commonly enjoyed feature, partly because it is so simple to use. Customers can just log in to their account when a bet is live and opt to cash it out at a stated price should they desire. Like with any bookmaker though, there are a few important terms attached that you should be aware of:
All cash out requests need to be accepted by Betsafe before they are settled. This usually takes a matter of seconds.
Betsafe have the right to reject a cashout request. Most commonly this occurs due to there being a change of odds or the suspension of a market (typically due to on-field action).
The cash out price offered is liable to change at any moment.
The cash out price offered can be higher or lower than the original stake.
A successful cash out request is not considered a new bet, instead just an early end to the original wager.
---
Why Use Betsafe Cashout?
Betsafe's cash out feature is widely available across sports meaning customers will regularly find they have the ability to end their bet early should they want to. Requests to cash out are processed quickly and the prices offered are certainly in keeping with what we would expect from a reputable and competitive bookmaker.
---
What are the Risks of Using the Cash Out Feature?
There is only really one 'risk' to using a cash out feature, which is that you could end up with lower returns than you would do if just letting the bet run its course. Knowing when and if to cash out is a skill in itself, sometimes you will get it right, sometimes you will not.
As a general rule, it is not something we recommend using regularly though as cash out prices are subject to a small house edge, so long-term they will benefit the bookie more than the player.
---
Can I Combine Bonuses with Cash Out at Betsafe?
No, cashing out a bet means it will not qualify for any promotion/bonus, nor fulfil the requirements of an existing offer. This is a site-wide policy for betsafe bonuses, so ensure any bets tied to a promotion are not settled early.
---
When is the Cash Out Option Not Available at Betsafe?
Betsafe enables customers to cash out most bets but there are some exclusions. Selected markets do not qualify for cash out, and you can tell which ones these are as they will simply not feature the 'cash out' green text like the rest do. You are more likely to find cash out unavailable in less popular sports.
Also note that Betsafe cashout is not available for certain bet types, including the follow:
Bets placed using a 'free bet' bonus rather than cash
Risk-free bets
Accumulator bets if one or more of the legs are not eligible for cash out
System bets
---
FAQs
Are Betsafe cashed out bets taxed?
If you are eligible to pay tax in the region where you bet then you may have to pay tax on cashed out bets where you end up winning more than your stake. Exact tax rules will vary according to your location though.
Does Betsafe have cash out for mobile players?
Yes, the cashout feature is available to smartphone users as well as those using a PC/laptop. It is not a device-specific feature.
When is the best time to cash out on Betsafe?
There is no best or worst time to cash out as such, although there rarely seems to be any value in withdrawing very early on, unless your bet was placed accidentally. To put yourself in the best position of making the right call though, it is a good idea to watch the action live. By doing so you will have the most information available, allowing you to make a more informed judgement.