Ad disclosure
SilentBet (SB) is proud to be the partner of numerous renowned casinos and bookmakers around the world. As such, we do use affiliate links to earn commissions (at NO cost to our readers whatsoever). These aff links help us stay a cut above our competitors, delivering top-notch content you can trust. Take a look at the
Ad Disclaimer
page for more information on our affiliate business practices.
| | |
| --- | --- |
| 💣 Mines on Roobet | An original Roo game |
| 👉 How to play | Login to start |
| 💰 Mines game payout | No set maximum |
| 🎯 Lowest stake | 0.01 Roolion |
Undoubtedly, Roobet is a leading crypto casino known for many games. Among them, Roobet Mines is slowly becoming a favourite to many.
In the Roobet Mines game, the casino offers a better and more exciting version of Minesweeper. Through the game, you use your instincts to enjoy the play for incredible wins. Since it may not require you to have lots of plans and moves, it could be a choice when you are tired of spinning reels and arranging cards.
In this article, we guide you on how to play Roobet Mines. We also teach you strategies to take some bucks home as you enjoy the moment.
---
Steps to Play Mines on Roobet
Mines is not a game developed by the usual software providers. It is a unique game that is only available at Roobet. It is part of Roo Originals (all in-house mini-games). To play it, follow the below steps: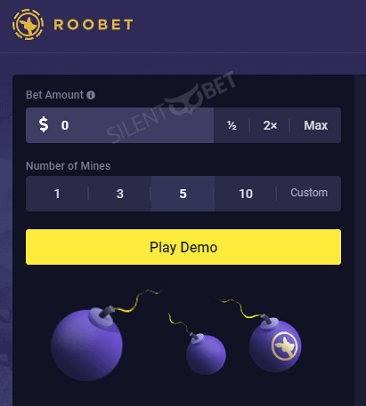 Firstly, open the official Roobet casino website and register an account.
Secondly, log into the account, go to the lobby, and search for 'Mines.'
When you load the game, key in the stake amount you want to bet.
Besides, enter the number of bombs you wish to avoid.
Finally, hit the yellow 'Start Game' button and start playing.
---
How Does Roobet Mines Work?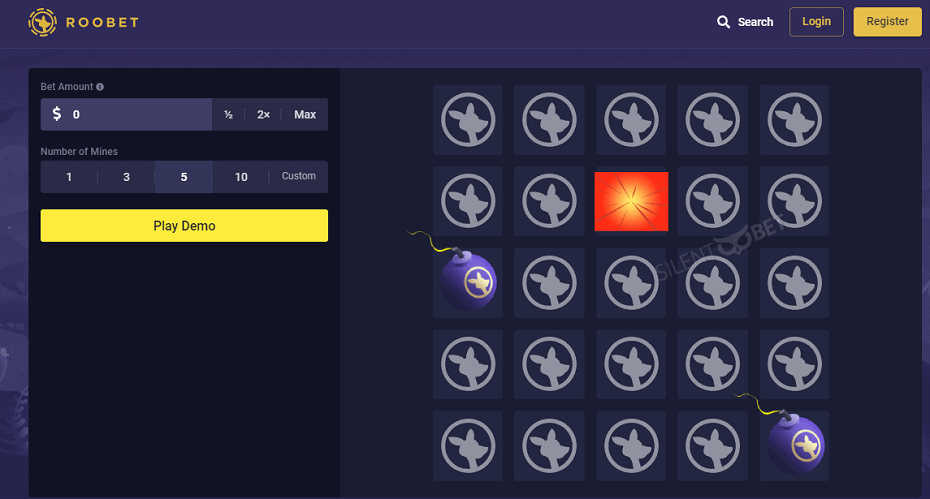 The Roobet Mines game pays you out based on the principle of evading bombs. Primarily, the game contains 25 covered fields. When you set your stake and the number of bombs/mines in the spaces, you need to start uncovering the fields. It is possible to have as low as 1 bomb, and as many as 24.
When you successfully dodge a bomb, a multiplier will appear on that box. At this juncture, you can cash out your bet. However, if you are not able to dodge a bomb, then it will explode, and you will lose your stake.
The multiplier available in this game depends on the number of bombs. The more bombs selected, the higher the risk and the bigger the multiplier. The multiplier is high since it is practically more difficult to avoid a higher number of bombs on the grid.
During the play, there is no limit on fields to uncover in a single round of mine.
Selecting 25 mines means that every card on the field will have a mine. Therefore, uncovering any of the fields means you lose your stake.
---
Payouts and Betting Limits of Roobet Mines
The payouts at the Roobet mines will depend on several things. To start with, the amount of stake you enter and secondly, the difficulty level of the Roobet Mines game. This level is determined by the number of mines you select before starting the game.
The Roobet Mines pay table is complex, as the multipliers are not constant. They change with the number of mines and empty spaces uncovered successfully.
Below is an example of a pay table that shows the payouts when one mine is selected during a game versus the number of spaces uncovered.
| Number of Mines | Spaces Uncovered | Multiplier |
| --- | --- | --- |
| 1 | 1 | 1.01 |
| 1 | 2 | 1.05 |
| 1 | 3 | 1.1 |
| 1 | 4 | 1.15 |
| 1 | 5 | 1.21 |
| 1 | 6 | 1.28 |
| 1 | 7 | 1.35 |
| 1 | 8 | 1.43 |
| 1 | 9 | 1.52 |
| 10 | 1 | 1.62 |
| 11 | 1 | 1.73 |
| 12 | 1 | 1.87 |
| 13 | 1 | 2.02 |
| 14 | 1 | 2.20 |
| 15 | 1 | 2.42 |
The multipliers will change with the number of mines and the spaces uncovered for every game. In total, this game gives you 300 different outcomes or scenarios.
For example, if you stake $10, select 1 mine, and uncover 5 spaces before payout, your multiplier will be 1.21. In this case, you will get a payout of 1.21 times 10. This gives you $12.1. Here, the profit you earn is $2.1. This is worth it as there is almost zero risk.
When betting on Roobet Mines, your lowest stake should not go below 0.01 Roolion. A bet that goes below this amount is automatically rejected. Besides, the maximum is not set.
---
Mines Tips and Strategies

Although it is difficult to have a working strategy for games of chance, the following strategies have been found to work for Roobet Mines.
Limit the Number of Mines
Keeping the number of mines low will give you a low multiplier but a higher winning chance. Primarily, let the mines be utmost 3. However, be set for a low multiplier.
Don't Wait for a Long
When you constantly get empty spaces without hitting a mine, you may be tempted to go on uncovering more fields. This could eventually lead to losses. After you find between 6 and 8 empty spaces, cash out immediately.
Avoid Regular Patterns
When you bet and win for the first time, you may obviously think that will be the winning pattern for the next round. However, this is not true as the mines are randomly placed on the grid, and repeating the same way might lead to a loss. Therefore, select the tiles without following any pattern.
Bet Within Your Means
Lastly, Roobet Mines is a game of chance. Therefore, you can avoid lots of losses by betting within your means. Avoid staking what you cannot afford to lose.
---
What are Some Other Games I Can Try on Roobet?
Roobet is proud with its selection of slots, live dealer studios and, of course, their original in-house games. We suggest you try Roobet picks or the best games on this site. Some of these are listed below:
---
FAQ
Are there Roobet Mines promotions?
There are no specific Roobet Mines promotions. However, you will love the multipliers in the game.
What are the available Mines variations on Roobet?
All Roobet original games or mini-games are suitable variation of Mines, some are Plinko, Crash and Roo House, to name but a few.
Can I play Roobet Mines for free?
Of course, you can play Roobet casino Mines for free in demo mode after login.
Is Roobet mines fair?
Yes, Roobet Mines is fair as it is undoubtedly audited by independent bodies.