Register to one of the best social crypto casinos online. With our signup steps, opening an account on Stake.com casino will take you less than 2 minutes. We also give you a valid registration code for 2023.
How to Open a Stake Account – STEPS

As a licensed iGaming site, Stake requires the opening of an account in order to use their betting services. While opening an account is pretty straightforward, our step-by-step guide explains how to sign up for Stake in greater detail.
Open your web browser or mobile browser and navigate to Stake.com.
In the top right corner of the homepage, click the "Register" tab. This will open the registration overlay, as shown below.
Start by entering a valid email address for communication purposes with Stake. It is important that you enter this correctly, as account verification is required.
Next, you will need to create a username and password – be sure to write this down as they will be needed to log in to your Stake account and the username needed when communicating with Stake support.
After creating a username and password, enter the day, month and year of your birth, then agree to the terms and conditions.
Lastly, click the "Code" box, enter our exclusive reference code

SILENTBET

Copy

, and click "Play".
What is Stake Reference Code?
A Stake reference code is an affiliate code that is entered during the registration process. By using such a code, like our exclusive reference code "SILENTBET", you will get a better sign up bonus with your first deposit. Additionally, using our reference code opens the door to other promotions offered by Stake, such as rakeback bonuses and daily, weekly and monthly bonuses.
Register at Stake via Mobile

Similar to the registration steps for desktop, you can register at Stake mobile using a smart device by following the same process. Therefore, if you want to register, the Stake sign up steps you will need to complete are as follows: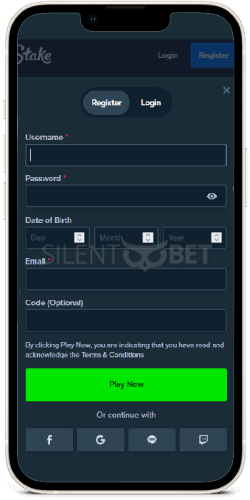 Start by opening your mobile browser and entering "Stake.com" in the search bar.
Next, tap "Register" in the upper right corner to open the casino Stake sign up registration overlay.
Once opened, you can proceed with entering a verifiable email address that Stake can use for verification and promotional alert purposes.
After completing step 3, enter your year, day and month of birth, followed by the acceptance of the terms and conditions.
Lastly, tap the "Code" box and enter

SILENTBET

Copy

as the reference code and tap "Play".
---
Stake Online Registration Terms & Conditions

Prior to opening a Stake account, it is important that you understand the terms and conditions that govern its use. By understanding the terms and conditions, you will have a smoother gaming experience and know your legal responsibilities when signing up.

As Stake is legally obliged to adhere to jurisdictional laws and "KYC" (Know your customer) compliancy, anyone opening an account at Stake must agree to the Stake's terms and Conditions, a sample of which includes:
You must be 18+ or the legal age within your country
You may only have one account per IP address
You must provide verification documents if requested.
You reside in a jurisdiction where gambling is legal
You are not a problem or compulsive gambler
---
Is it Legal to Register at Stake.com from the USA?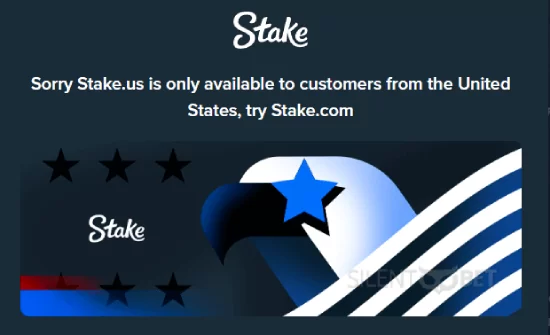 If you are from the USA and want to sign up to Stake casino, it is legal if you use Stake.US. However, the legal age for gambling in the US is 21, therefore, you must be 21 years of age or older and able to provide age verification documents to Stake after registration. Otherwise, the only requirement to legally register and place wagers at Stake.US is that you reside in a state where online gambling is regulated.
How to Sign Up with Stake from the US?
Now that you know it is legal to sign up for Stake from the US, the next step is to understand how to sign up for Stake in the US. Fortunately, this follows the same process as any other country, meaning you will need to complete the Stake casino registration form via the Stake.US domain.
Thereafter, once you have signed up with Stake, you will need to verify your address once Stake starts the KYC process. The KYC process is a mandated licensing requirement of Stake to ensure it verifies the identity and address of its customers.
What Are the Registration T&Cs for US Players at Stake?
The registration T&Cs for US players at Stake are similar to other jurisdictions in so far as the information they must provide when creating an account. The main difference for US players is they must reside in a state that has legalized online betting within their borders. The remaining T&Cs for U.S players include:
You must be at least 21 years of age
Be able to provide proof of identity and address documentation
Have only one account per IP address
Confirm you are not a compulsive or problem gambler
---
How Do I Verify my Stake Account?

Due to the identification process, all members are obligated to undertake, Stake will request each account holder upload documents that confirm their I.D and address. As part of the identification process, registered users will need to verify their email address and provide Stake copies of the following documents:
A government-issued national identity card (ID card / Drivers' license / passport)
A utility bill in your name displaying your residential address
In addition to the above, Stake may, at their discretion, request you provide a photo of you holding your id and provide them with a copy of your bank statement.
---
Who Can Open an Account on Stake?

While Stake is pleased to operate within regulated markets, it may not offer betting services in non-regulated countries. As a result, players from the following countries will not be permitted to open an account on Stake:

Allowed Countries
Albania
Algeria
Andorra
Angola
Argentina
Armenia
Aruba
Austria
Azerbaijan
Bahamas
Bahrain
Bangladesh
Barbados
Belize
Benin
Bermuda
Bhutan
Bolivia
Bosnia and Herzegovina
Botswana
Brazil
Brunei
Bulgaria
Burkina Faso
Cambodia
Cameroon
Canada
Cape Verde
Cayman Islands
Chile
China
Colombia
Costa Rica
Croatia
Cyprus
Denmark
Ecuador
Ethiopia
Egypt
England
Estonia
Falkland Islands
Faroe Islands
Fiji
Finland
French Guiana
French Polynesia
Gabon
Gambia
Georgia
Ghana
Gibraltar
Greenland
Grenada
Guatemala
Guernsey
Guinea
Guyana
Haiti
Honduras
Hong Kong
Hungary
Iceland
India
Indonesia
Ireland
Israel
Jamaica
Japan
Jordan
Kazakhstan
Kenya
Kosovo
Kuwait
Kyrgyzstan
Laos
Latvia
Lebanon
Lesotho
Liechtenstein
Luxembourg
Macao
Macedonia
Madagascar
Malawi
Malaysia
Maldives
Mali
Malta
Mexico
Micronesia
Moldova
Monaco
Mongolia
Montenegro
Morocco
Mozambique
Nepal
New Zealand
Nicaragua
Niger
Nigeria
Niue
Northern Ireland
Norway
Oman
Pakistan
Palestine
Panama
Paraguay
Peru
Philippines
Poland
Puerto Rico
Qatar
Romania
Russia
Saint Martin
San Marino
Saudi Arabia
Scotland
Senegal
Sierra Leone
Singapore
Sint Maarten
Slovenia
Solomon Islands
Somalia
South Africa
South Korea
Sri Lanka
Suriname
Swaziland
Switzerland
Taiwan
Tajikistan
Tanzania
Thailand
Tunisia
Turkey
Turkmenistan
Uganda
Ukraine
United Arab Emirates
United Kingdom
United States
Uruguay
Uzbekistan
Vanuatu
Venezuela
Vietnam
Yemen
Zambia
---
Signup Offers for New Customers at Stake
When signing up, new customers who use our exclusive Stake casino bonus code will be entitled to a 200% welcome bonus. In order to activate the bonus, you must enter bonus code "SILENBET" and make a minimum deposit of €100 within 24 hours of registration.
Signup Bonus Terms and Conditions
This bonus is only available for new customers.
Any deposits less than €100 will not qualify for the bonus.
The maximum deposit bonus per player is $1000.
Rollover requirements for the welcome bonus is 40x
---
What Deposit Methods to Choose When Signing Up?

In addition to Stake.com accepting deposits in Canadian dollars, Brazilian Reals, and Japanese Yens, cryptocurrencies are Stake's preferred deposit methods. As a result, Stake has opted to accept over twenty cryptocurrencies, including:
Bitcoin
Bitcoin Cash
Binance Coin
Litecoin
Dogecoin
Ethereum
Chainlink
Uniswap
MATIC
Shiba
Sand
USDC
Cronos
Ripple
Tron
EOS
DAI
APE
| Payment Method | Deposit Minimum | Deposit Maximum | Time for Deposit | Taxes |
| --- | --- | --- | --- | --- |
| Bitcoin | no limit | no limit | Instant | 0.00007 BTC |
| Litecoin | no limit | no limit | Instant | 0.0005 LTC |
| Dogecoin | no limit | no limit | Instant | 1.5 DOGE |
| Ethereum | 0.001 ETH | no limit | Instant | 0.0005 ETH |
| BitcoinCash | no limit | no limit | Instant | 0.00001 BCH |
| Ripple | no limit | no limit | Instant | 0.0001 XRP |
| Tron | no limit | no limit | Instant | 1 TRX |
| EOS | no limit | no limit | Instant | 0.1 EOS |
---
Can I Change my Login Details or Personal Information After Registration?

Like most virtual businesses, Stake understands that its customers may need to change their personal information after registration. While you can change your email address, home address and telephone number, you cannot change login details, such as your username.

If you wish to change your email address, you may log in and navigate to the "Settings" tab. However, for other changes, you will need to contact Stake.com support and request they update your account. Bear in mind, if changing your registered home address, you will need to resend proof of address documentation.
---
Can I Use My Stake Account When Travelling Abroad?

Unfortunately, if you are travelling abroad to a country that is a prohibited jurisdiction at Stake, you will not be able to use your Stake.com account. However, if the country is not prohibited, you are welcome to log in and use your Stake.com account. That includes playing jurisdictional-related games, processing deposits and submitting withdrawals.
---
What Should I Do to Prevent My Stake Account Getting Limited or Banned?

The smartest solution for preventing your Stake account from getting limited or banned is to adhere to the terms and conditions. Those terms and conditions include having only one account, not using a crypto address associated with another account, being identified as a problem gambler, or logging in via a VPN in a prohibited jurisdiction.

Stake may also limit bettor accounts it believes are attempting to gain an unfair edge over the casino through their betting practices or who only bet large amounts on certain outcomes.
---
How Can I Close My Stake Account?

Before you are able to close your Stake account, the bookie requires you to initiate a 24-hour cooling down period via email or by clicking "Responsible Gambling" under the "Settings" tab. After the 24-hour period has concluded, you can choose to self-exclude for a specific amount of time or close your account permanently.
---
How to Contact the Stake Support Team?

If, for some reason, you need to contact the Stake support team, you can contact them via live chat or, alternatively, by sending an email. However, many questions that arise are often answered via Stake's help centre. Before emailing support or using the 24/7 live chat service, consider reviewing the help centre articles for an answer. Otherwise, you can contact Stake support via the options below:
---
Why Should I Join Stake?

As one of the fastest growing crypto betting sites online, Stake has become known for their game-changing betting platform and promotional achievements. Along with rakeback bonuses, daily and weekly races, Stake's weekly giveaways are just a few of the reasons you should join Stake.

While Stake's promotional achievements are a commanding reason for joining, its substantial range of provably fair casino games, sportsbook and non-reverse withdrawal policy make Stake even more attractive.
#1 United States 22.64%

#2 Germany 17.83%

#3 Brazil 13.04%

#4 Canada 11.78%

#5 France 9.3%
All data taken from a snapshot of SimilarWeb in March
---
FAQs
Can I use a VPN when Signing up with Stake?
No, using a VPN to sign up at Stake is expressly forbidden and will result in your account immediately being closed.
Why can I not sign up to Stake Casino?
If you cannot sign up to Stake casino, the most likely reason is you live in a restricted country or already have an account.
Must I verify my Stake account before depositing?
Yes, you will need to verify your email address before having full account functionality, such as depositing and withdrawing.
What If I Forgot my Password?
If you forgot your Stake.com password, click the "Sign in" button and select the "Forgot Password" option.
Is It Possible to Self-Exclude or Limit My Deposits at Stake?
Yes, you can self-exclude and limit your deposits at Stake by logging in and navigating to "Responsible Gambling" under the "Settings" tab.
Can I set up two-factor authentication at Stake?
Yes, you are welcome to set up two-factor authentication at Stake.
How do I reset my 2FA code at Stake?
If you lost your two-factor code at Stake, contact the support team via your registered email address, and they will initiate a 2FA recovery procedure.
---
What Comes Next?

Now that you have opened a Stake account in 2 minutes, what comes next is the exploration of the Stake.com inventory of games, its betting platform and different functionality options. In addition, you can preview the various promotinos offered, talk to support to learn more about the Stake VIP program and consider reading one of the helpful blog articles.
---
More about Stake Account from Our BLOG
---