The odds are high that, as a seasoned player, you will likely not have ever seen a VIP program quite like the one at Stake.com. If you think this is just another typical VIP program that lacks creativity, you are wrong. In fact, the Stake VIP levels & program is a game changer and one of the best we have ever seen.
Not only are VIPs recognized as elite players, but as you advance through the different levels, you quickly realize the value this program offers. With five levels ranging from Bronze to Diamond, the further you advance, the more perks and bonuses you unlock.
---
Stake.com VIP Club Overview
If you are accustomed to the millstones most VIP programs require for entry, you will be impressed at the structure of Stake's VIP Club. While advancing within the Stake VIP program levels directly correlates with the amount you wager, the bonuses a wager-free.
The simple philosophy of a no strings attached bonus is what separates the Stake VIP club from other Loyalty programs. You even have the right to withdraw your bonuses – no questions asked! Taking into account the benefits associated with being a VIP at Stake, here is a quick overview of what you can expect:
Flexible Bonuses
Depending on your VIP level, Stake will award you a variety of weekly and monthly bonuses that you have the flexibility to change. For example, if given a personalized gift, you can request it be converted into a cash bonus.
Dedicated VIP Support Services
Once a VIP at Stake, you will have the luxury of being able to speak with a dedicated VIP support representative. However, once you reach the Platinum IV level, a personal VIP manager is at your disposal.
---
What are the Stake VIP Levels and Requirements?
The Stake VIP program is a thing of beauty and one that is available to all members who meet the minimum Stake VIP wager requirements. The VIP program is open to all members once they have wagered $10,000, but thereafter, advancing within the different Stake VIP tiers is dependent on their continued wagering and milestone achievements.
As the Stake VIP program has fourteen tiers, those milestone achievements are based on the following Stake VIP levels wagering requirements:
List of All Stake VIP Ranks
Bronze – $10,000
Silver – $50,000
Gold – $100,000
Platinum– $250,000
Platinum II– $500,000
Platinum III– $1,000,000
Platinum IV – $2,500,000
Platinum V – $5,000,000
Platinum VI – $10,000,000
Diamond – $25,000,000
---
Stake VIP Bonuses and Rewards
The Stake VIP program comes packed with a substantial number of rewards that are undeniably attractive. From a Stake VIP bonus for levelling up rakeback bonuses, weekly boosts, weekly giveaways and monthly bonuses, the Stake VIP rewards seem almost endless. Here is a breakdown of what Stake VIPs can look forward to receiving:
Rakeback Bonuses
Every 30 minutes, VIP players at Stake qualify for rakeback bonuses. The percentage of rakeback is determined by your Stake VIP boost and level, the amount you wager and the game RTP.
Level up Bonuses
Level up bonuses are handed out by Stake each time you advance to Bronze, Silver, Gold, and Platinum levels. They help you move up the stake vip tiers seamlessly.
Weekly Boost
Every week, Stake awards a weekly boost bonus to VIPs through their Telegram group. This bonus is available every Saturday at 12:30 pm and is based on the previous week's activity.
Weekly Giveaway
For every $1,000 wagered, VIPs receive a ticket into Stake's weekly giveaway draw. This weekly giveaway is broadcast live every Saturday and awards ten prizes of $5,000, which is converted into Bitcoin.
Monthly VIP bonus
In addition to a weekly boost bonus, the Monthly VIP bonuses are another way Stake rewards its VIPs. The amount received is dependent on your previous month's wagering and VIP level.
Reload Bonus
Every week, VIPs are given the opportunity to claim a reload bonus. The reload bonus can be claimed every ten minutes, and the size of the bonus is determined by the amount wagered during the preceding seven days.
---
Calculate VIP Progress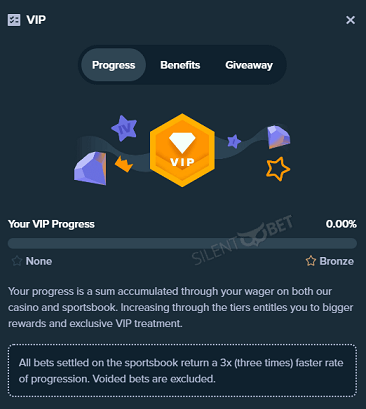 If you want to calculate the wagering you have remaining before you advance to the next VIP rank at Stake, here is a quick explanation.
If you are a Bronze level VIP and your progress bar shows you have met 50% of the wagering requirement for Silver VIP status – it means the following:
Wagering requirement for Silver: $50,000 – $10,000 for Bronze Requirement = $40,000.
Wagering requirement remaining for Silver: $20,000.
Therefore, the amount remaining to be wagered is based on your having wagered 50% of the Silver rank requirement, less the $10,000 you wagered for Bronze.
---
How to Join Stake's VIP Program?
The beauty of the Stake VIP program is that joining the program and advancing through its different levels is pretty straightforward. However, if you want to know how to join Stake's VIP program, you can follow the steps we have listed below.
Register an account at Stake.com
Confirm your email address and identity
Deposit in crypto or another accepted currency.
Wager at least $10,000 in the casino or sportsbook
---
Is there a Strategy for Reaching the Highest Level?
As we have mentioned, advancing within the different VIP levels at Stake is dependent on the amounts you wager on sports or in the casino. While this is the norm for VIP programs, there are some strategies you can use to help advance to the highest levels.
#1 Wager on games that offer a high RTP
The higher the RTP, the more you are likely to win, and the higher the amount you wager will be. This allows you to wager more and advance to the highest levels at a faster pace.
#2 Vary your bet sizes
Varying your bet sizes allows you the opportunity to capitalize on the RTP, which can greatly impact your bankroll. Since casino games are RTP dependent, this relates more to casino bets versus sports.
#3 Play Dice Games
Dice games are notorious for strategic betting and are suitable for reaching the highest VIP levels. Namely, they allow you to utilize the auto-play feature, and your wagers will apply to each level requirement.
---
FAQs about Stake VIP program
How much are Stake VIP bonuses?
Stake VIP bonuses vary based on each VIP member wagering during a specific time period.
Will I receive an invite to join Stake VIP?
Yes, if you are invited to join Stake VIP, you will receive a notification when you login.
Where can I view my Stake VIP progress bar?
You can view your Stake VIP progress bar by logging in, clicking the human icon and selecting VIP under the menu options.
What benefits does the Stake VIP program offer?
The Stake VIP program offers a wide assortment of benefits, from rakeback bonuses, reload bonuses to weekly and monthly bonuses.
---