Account verification or confirmation is an important step you must take to have absolute access to an operator's betting services. The process is meant to authenticate the information you provided during account registration. Fortunately, the Parimatch verification process is simple and will take you only a few minutes, but only if you follow the correct procedure.
How to Verify Your Parimatch Account?
Once you sign up for a Parimatch account, the operator will prompt you to complete account verification. To do so, follow the procedure below without missing a step.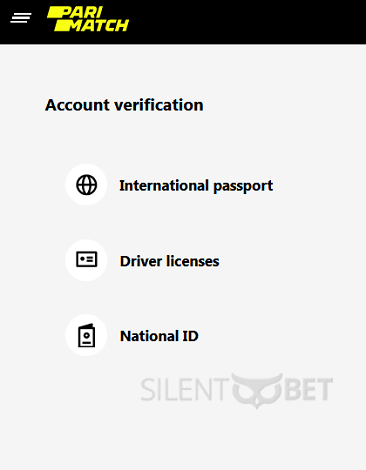 Log into your Parimatch account via this 👉 link.
Navigate to the Settings section.
Display the personal data window.
Select Account Verification tab.
Upload the necessary documents and scan of your ID.
Submit the files to the operator.
---
What Documents Do I Need for Parimatch Account Verification?
Parimatch requires standard ID documents for the verification process. For instance, in Parimatch India for your verification to go through, you need to upload the front and back copies of your Aadhaar card (coloured photos). You also need to upload a clear selfie holding your Aadhaar card.
Once you complete the Parimatch verification steps, it will take a couple of days before the operator confirms your account. You can also check the verification status by going to settings > account information, and after that, you will be able to see the document's status and read the note.
Some exapmles of verification documents that Parimatch may request from you include:
Photo Document (i.e. Passport, ID card, Driver License)
Bank Account Document (Bill, Payment)
Utility Bill (water, eletricity, etc.)
---
FAQs
Why is my verified Parimatch account unable to withdraw money?
If your verified Parimatch account cannot withdraw money, check if you have an active bonus and confirm you're using the same payment method you used to deposit money.
Why do I have to verify my Parimatch account?
You need to verify your Parimatch account to confirm that you are 18 years or above and make cash withdrawal possible.
Can I place a bet with an unverified account?
Yes, you can place bets using an unverified account, but you will be unable to withdraw your winnings if you make correct bets.
---