Ad disclosure
SilentBet (SB) is proud to be the partner of numerous renowned casinos and bookmakers around the world. As such, we do use affiliate links to earn commissions (at NO cost to our readers whatsoever). These aff links help us stay a cut above our competitors, delivering top-notch content you can trust. Take a look at the
Ad Disclaimer
page for more information on our affiliate business practices.
Now you can place bets safely directly from your phone without using Game ID at Betsafe. You can now send texts to place bets online in several easy steps. Betsafe SMS betting starts with sending JOIN or BETSAFE as a text message to number 23333. Add this number to contacts and send free SMS when you want to register, deposit, play jackpot, or bet on sports.
---
How to Register via Free SMS?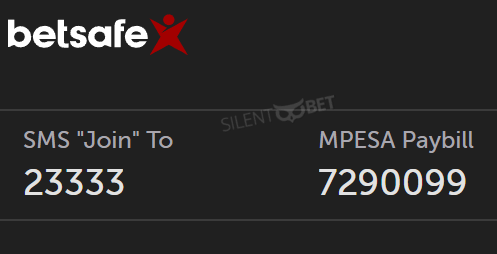 Signing up to Betsafe SMS betting could not be much simpler, and all you need is your mobile phone.
Create a new text message containing either the word BETSAFE or JOIN (in caps)
Send the message to 23333
Shortly after, an account password will be sent to your phone. This will allow you to log in to the website should you wish to do so at any point.
Although Betsafe will send new customers a randomly generated password, it is possible to change this once you are logged in to your account.
How to Deposit by Texting Betsafe
To make a deposit after you have registered, just follow the step below:
Text 'Deposit' plus the desired amount e.g., 'Deposit 200' to 23333. You will then be asked to enter your M-PESA Pin to approve the payment.
---
How to Place a Bet via SMS?
Betsafe have made it easier for customers to place a bet via SMS (*Ekelea na Game ID) as they have removed the need to memorise game codes and specific formatting. The older system, which still exists for customers that want to use it, involves quoting the relevant Game ID, followed by the market type and stake, with each part separated by a #. To place a bet in this way you would need to enter, for example:
This would mean placing a Ksh 50 bet on the home team (1) for the game that has the ID of 1154, which in this case is Manchester United versus Manchester City. Should you want to place a Ksh 100 bet on both teams to score, you would instead write 1154#GG#100 and send it to 23333.
New Betsafe Text Betting Way
The new and improved system though allows players to text their selection and stake in. If you wanted to bet Ksh 80 on Chelsea to win, for example, this is what you would do:
Write '80 Chelsea' or '80 Chelsea to win'
Send the message to 23333
Alternatively, if you wanted to bet the same amount on Kenya's match to have under 2.5 goals, you would simply send '80 Kenya match under 2.5' to 23333.
For multiple bets, it is just a case of writing 'and' in between your selections. Combining the two examples above you would put 160 Chelsea to win and Kenya under 2.5 goals. In the older system, it's just a case of writing Game ID#Selection#Game ID#Selection#Bet Amount.
---
How to Cancel a Bet via SMS?
When you successfully place a wager via Betsafe SMS betting, you will be issued a unique bet ID. Should you wish to cancel the bet (most likely because you made a mistake when placing it), this can be done using the ID.
Cancel a bet
To cancel a bet, send the word CANCEL followed by the full Bet ID to 23333. For instance, CANCEL 1122334XP
For the best chance of a successful cancellation, this text should be sent no more than 10 minutes after placing the bet and no less than 10 minutes before the start of the match/event it relates to.
---
Can I Bet on the Football Jackpots via SMS?
Yes, to get jackpot games, text either DJP Games, MJP Games or SJP Games to 23333.
These relate to the daily jackpot, middle jackpot and super jackpot respectively. To make your selections you would just put the game code, e.g. MJP followed by your picks, in the correct order, for example: mjp#1X112X211X21212.
Alternatively, sending mjp#auto to 23333 means your selections for Betsafe jackpots will be issued randomly.
---
How to Check Your Balance via SMS?
When betting it is important to keep on top of how much you are winning/losing. This is not as easy to do when betting via SMS, but Betsafe make it possible for players to receive regular balance updates.
To check your balance at any time all you need to do is to text BALANCE to 23333.
You will receive an SMS back very shortly afterwards stating how much money remains in your account.
If you think your balance is running low, be sure to fire this text off so you do not end up requesting a bet that exceeds your balance. Should you do this then your bet will be rejected.
---
How to Stop Promotional SMS?
If Betsafe end up sending you unwanted promotional messages via SMS the easiest way to stop this is to dial *456*9*5#, select block by sender name and choose Betsafe. It may also be possible to adjust your marketing preferences by logging into your online account.
---
What are the Fees?
There are no charges involved in sending or receiving messages to Betsafe SMS Betting services, whether this is placing a bet, requesting a balance or anything else. This is a free-to-use service for all customers. The only exception is if your own mobile operator charges you for sending text messages as these fees cannot be avoided.
---
FAQ
What markets can I bet on via SMS?
Although the choice is not as wide as it is on the website, customers can still bet on the following full time markets: Match Winner, Over/Under Goals, Double Chance, Correct Score, and Both Teams To Score. It is also possible to select these markets as half-time bets, rather than full-time. Betsafe are hoping to expand the number of SMS betting markets in future.
Can I call the Betsafe support team to get help?
Yes, their English-speaking customer service team can be contacted by calling +254 111 040000 (Safaricom) or +254 730 040000 (Airtel). The customer service centre is open 24/7.
How do I withdraw money via Betsafe SMS?
Send a message containing the amount you wish to withdraw to 23333; for instance 'Withdraw 200' in order to withdraw Ksh 200. Use your betsafe paybill number here. The minimum withdrawal amount is 100 Ksh and players should receive their money within 30 minutes.