| | |
| --- | --- |
| 💻 Hollywoodbets registration | Sign up here |
| ♻ Register time | up to 2-3 min |
| 💌 FICA verification | ID docs |
| 👉 Registration open to | SA players |
To register at Hollywoodbets South Africa in 2023, you must complete a specific process consisting of a couple of steps. Fear not because the process is straightforward and does not take more than 3 minutes. With that said, we will learn everything about signing up and FICA verification for new Hollywoodbets registration SA it in this article, so let's dive in.
Samuel Karugu, Betting Expert & Main Content Writer at Silentbet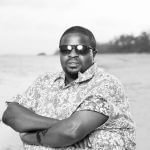 It has been a while now that I have registered with Hollywood SA. I tested the signup process one more time and wrote this guide to help you complete the steps without encountering any issues along the way.
---
How do I create a new Hollywoodbet account?
To create a Hollywoodbets account SA, you have to fill out a registration form.
Open the betting operator's official website.
Choose the "Register" button in the top-right corner.
Provide the required details. This operator will require your title, name, date of birth, gender, email, city, etc.
Read the Disclaimer and Terms & Conditions. Once ready, select "Submit".
As you can see, the Hollywoodbets register procedure is straightforward. All you need is to provide the required information by following the specific steps.
---
How to Open an Account via Mobile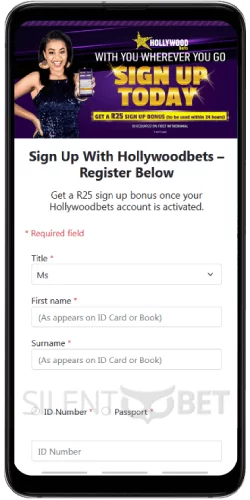 To open an account via your phone while using Hollywoodbets mobile, you should:
Go to the operator's mobile website using your preferred browser. Use the Hollywoodbets mobile app as an alternative.
Once there, click the green "Register" button.
You will see the signup form, which will require you to provide a wide range of personal details, such as your title, First Name, Surname, etc.
Lastly, you must tick the boxes and choose "Submit" to complete the process.
Following our analysis, it became clear that the Hollywoodbets register procedure on mobile is the same as the desktop one. This is one of the many reasons why this is South Africa's preferred mobile gambling operator.
---
Hollywoodbets Registration T&C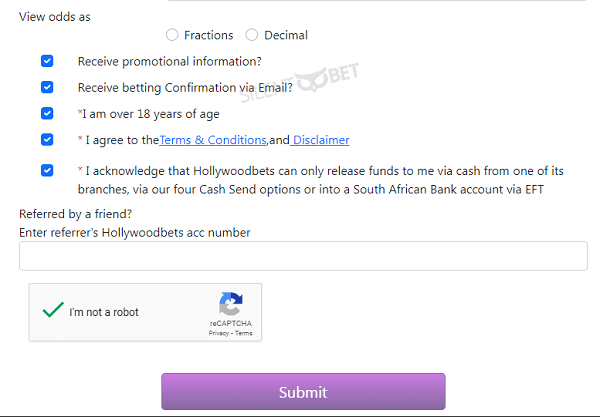 Those who want to know how to open a Hollywoodbets account already know the steps they must complete. However, there are also several important T&Cs that they need to be aware of, such as:
Obviously, you have to be at least 18 years old to use this iGaming operator.
Hollywoodbets sign up may require you to provide specific documents to verify your identity and residence.
The betting brand has the right to refuse your bet and suspend/close your account if you do not adhere to the rules.
---
Hollywoodbets Welcome Bonus

Once your complete the register procedure, one of the first things you'll have access to all the Hollywoodbets promotions, including the signup bonus for SA. Even though it may look like there isn't such an offer, new signees can actually get 50 free spins for casino games once they open a new account. Interestingly, each free spin is worth 50c.
Aside from the free spins, Hollywoodbets also has a no deposit bonus for new users of R25. The latter is available 24 hours after activating your account.
Steps to Claim the Registration Offer
Claiming your registration offer from Hollywoodbets is an easy process that requires you to complete the following steps:
#1 First, you have to go to the operator's site.
#2 Second, complete the process to open your new account.
#3 Third, provide the required FICA documents.
Registration Bonus T&C
Now that you know how to register Hollywoodbets account, you also have to know a few important things about this site's welcome offer. Here are the most critical T&Cs:
You have to use the R25 welcome bonus on odds of 5/10 or higher.
After completing the rollover requirement for the R25 bonus, you must use the bonus fund at least once.
Hollywoodbets will allow you to use the free spins on different games from Habanero, such as Hey Sushi.
New users can win up to R1,000 per player with the FS.
---
Steps to FICA an Account – Docs Needed
After completing your Hollywoodbets registration, you may have to go through the FICA regulations (i.e. verification process). The latter requires this betting operator to identify and validate its customers who open an account, as well as those who place a bet or request payouts over a specific amount.
It is worth knowing that Hollywoodbets bookmaker SA might use a third-party verification agent to help it with this process. In terms of the required documents, you have to provide the following:
ID copy/Passport
Driver's License
Smart Card ID
Interestingly, the operator allows account holders to send a copy of their driver's license, but it will only accept it if they have a temporary ID or the latter is damaged. The ID documents have to be clear, and your photo must be visible. People using a Smart Card ID have to send a front and back picture of the document.
Send them to hwhelpline@hollywoodbets.net via email or fax them to 086 673 2627. Once FICA is complete you can place bets securely.
---
How to Activate Hollywoodbets Account
To activate Hollywoodbets account, users have to complete several steps, such as:
You must complete the registration process.
After that, check your email address and use the link to activate your account.
It is worth knowing that people who've requested a temporary account suspension/self-exclusion will have to request a re-activation of their account. In other words, it won't re-activate automatically.
How do I log into my Hollywoodbets account?
To log in, simply enter your username and password. You will automatically agree to the terms of use of the Hollywoodbets site. Now you can go ahead and log in. Your new account will be ready.
---
Who Can Open an Account
New signees to adhere to the specific Hollywoodbets T&C can open an account with Hollywoodbets. Generally speaking, this process is available to punters who are at least 18 years old.
Besides South African residents, people who live in the country can also register using their passport numbers (for reasons due to the verification process). This makes Hollywoodbets one of the few iGaming operators that allow foreigners to use its platform.
---
Is it Safe to Register at Hollywoodbets?
Yes, it is safe to register at Hollywoodbets. Those who go through the process of learning more about this operator will immediately notice it is legit.
Hollywoodbets is among the few iGaming companies in this part of the world that has an active license issued by the Western Cape Gambling and Racing Board (wcgrb.co.za). Furthermore, this company uses all sorts of other security features whose goal is to guarantee people won't have any problems while playing.
Whether you've completed the hollywoodbets registration procedure on desktop or mobile, you'll have access to the latest security features and responsible gambling tools.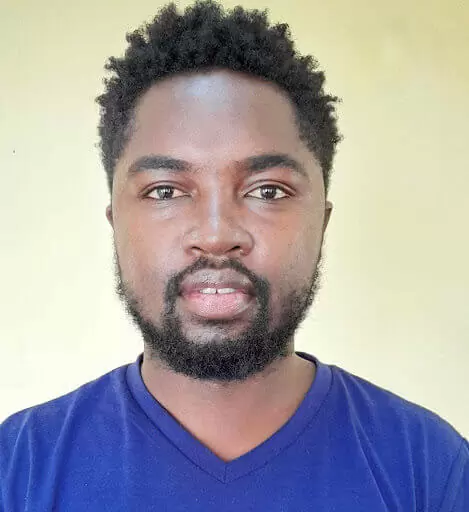 I can guarantee that signing up here is 100% legal and safe for South African players. The site is protected and the brand will make sure your personal and banking details never get leaked.
---
Available Deposit Methods
Deposit Methods
Withdrawal Methods
| Payment Method | Deposit Minimum | Deposit Maximum | Time for Deposit |
| --- | --- | --- | --- |
| Bank Wire Transfer | R20 | R5,000 w/t verification | 24 - 48 Hours |
| Debit Cards | R50 | R5,000 w/t verification | Instant |
| Credit Cards | R50 | R5,000 w/t verification | Instant |
| E-Vouchers | R10 | R5,000 w/t verification | Instant |
| PayU | R5 | R5,000 w/t verification | Instant |
| 1VOUCHER | R10 | R5,000 w/t verification | Instant |
| Zapper | R5 | R5,000 w/t verification | Instant |
| Ozow | R5 | R5,000 w/t verification | Instant |
| SID | R5 | R199 999 | Instant |
| PayFast | R5 | R5,000 w/t verification | Instant |
| EasyEFT | R5 | R5000 | Instant |
| Instant EFT | R5 | R5000 | Instant |
| Peach Payments | R5 | R5000 | Instant |
| Payment Method | Withdrawal Minimum | Withdrawal Maximum | Time for Withdrawal |
| --- | --- | --- | --- |
| Bank Wire Transfer | R50 | R5,000 | 3-5 days |
| Debit Cards | R50 | R5,000 | 2-3 days |
| Credit Cards | R50 | R5,000 | 2-3 days |
| E-Vouchers | R50 | R5,000 | 2-3 days |
| PayU | R50 | R5,000 | Instant |
| 1VOUCHER | R50 | R5,000 | 2-3 days |
| Zapper | R50 | R5,000 | Instant |
| Ozow | R50 | R5,000 | Instant |
| SID | R50 | R5,000 | Instant |
| PayFast | R50 | R5,000 | Instant |
| EasyEFT | N/A | N/A | N/A |
| Instant EFT | N/A | N/A | N/A |
| Peach Payments | N/A | N/A | N/A |
When it comes down to making deposits, Hollywoodbets will allow you to use several popular payment solutions. Even though the operator focuses on South Africa's market, it provides similar payment gateways to some of the world's leading iGaming brands.
With that said, this operator might be available in even more countries, which means there will be a difference in the payment solutions. Normally, you can expect to find the following:
Bank Cards
PayU
1VOUCHER
Zapper
Ozow
SID
PayFast
Bank Wire Transfer
E-Vouchers
---
Sign Up Problems & How to Solve Them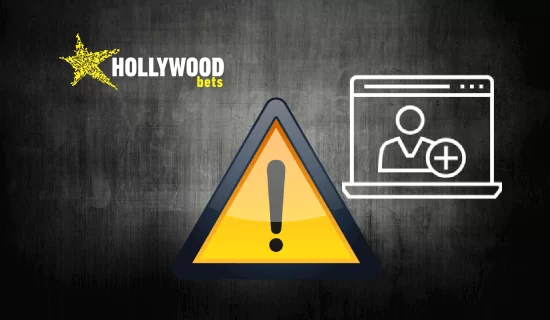 Even though you should not encounter any sign up problems because Hollywoodbets offers an easy and efficient registration process, there might be some exceptions. Let's review some of the most common issues and how to resolve them.
The site is not loading – If you're having trouble loading it, it might be because it's unavailable in your jurisdiction. Try learning more about Hollywoodbet's availability.
Not receiving an email following your registration – This is a common issue if you're using specific email providers. Either wait for a couple of minutes or check the Spam folder.
Not being able to complete the signup form – Although you should not have any problems, there might be cases where you can't complete the signup process. In this situation, you should use one of the contact options and ask Hollywoodbets for assistance.
Not sure if you want to complete sign up and register at Hollywoodbets South Africa? Then consider an alternative. Compare and contrast betway vs hollywoodbets for a start. Betway co za is one of the most similar sites and the perfect alternative to this bookie for SA.
Nothing seems to work? Maybe you will consider deactivating your account after sign up. To do so, simply contact the support and ask for self-exclusion on a permanent basis.
---
FAQ
What if I Forgot my Hollywoodbets Password?
If you forget your Hollywoodbets password, you can use the specific steps to restore it. To do that, you must press "Log In", followed by "Forgot password?".
Can I Change my Login Details After Registration?
No, you can't change your login details after registration. However, you can ask Hollywoodbets for more information.
How do I Find my Hollywoodbets Username and Password?
To find your Hollywoodbets account holder username and password, you have to check your email.
Does the Bookie Have a Registration Bonus?
Yes, the bookie has a registration bonus. Yet, it might not be available for all client sand in every jurisdiction once per one account.
What is my Hollywoodbets account number?
Your Hollywoodbets account number is a unique combination of numbers that allows you to stand out. You should receive the account number in your email after hollywoodbets registration, but if that doesn't happen, you can log in, go to the deposit page, and look for the number there.
How do I register my Hollywood account online?
You don't need to register an account you already have online. Simply log in.