Top LOL Betting Sites by Category

| | |
| --- | --- |
| 🏆 Number 1 LoL Bookie | Loot.bet |
| 💰 Best LoL Odds | GG.bet |
| 🆕 New League of Legends Betting Site | Betwinner |
| 📈 Popular LOL Markets | Betway |
| ▶️ Top for LoL Livestreams | 888sport |
| 🎁 Widest Range of Bonuses | Bwin |
| 📱 Recommended LoL Mobile App | 1xbet |
| ⚡ High-Quality Live Streams for LOL | 22bet |
League of Legends is a multiplayer online battle arena and one of the most popular eSports that people bet on. The game became so popular because it was released during times when the MOBA genre was gaining a lot of popularity.
Choosing an appropriate LoL bookie is important if you want to have a proper online betting experience. Placing bets at leading eSports bookmakers is always fun, but if you want to make the most out of it, you need a brand that has plenty of options. That's why we will check some of the best LoL betting sites.
Top 8 League of Legends Betting Sites
The options below have proven themselves as some of the best League of Legends betting sites.
---
Loot.bet
Our #1 pick is among the world's leading eSports betting sites where you can punt on League of Legends. Actually, LootBet is primarily known for its excellent number of markets, especially for the most popular eSport title. Interestingly., Loot.bet also offers different features that you can use while punting on LoL.
Pros
One of the largest selections of LoL betting markets
Good odds for League of Legends
Live Streaming and other features
Cons
No promotions for League of Legends
---
GG.bet
If you like betting on League of Legends and other eSports, you have probably heard of GGBet. The latter is the most popular gambling platform when it comes down to LoL and other eSports. Consequently, GGbet will allow you to choose from multiple markets, promos, and features.
Pros
Multiple LoL betting markets
Numerous eSports promotions that can be used while wagering on LoL
Every popular feature is available on the platform
Good LoL betting odds
Cons
Despite its popularity, the bookmaker is not always easily accessible
---
Betway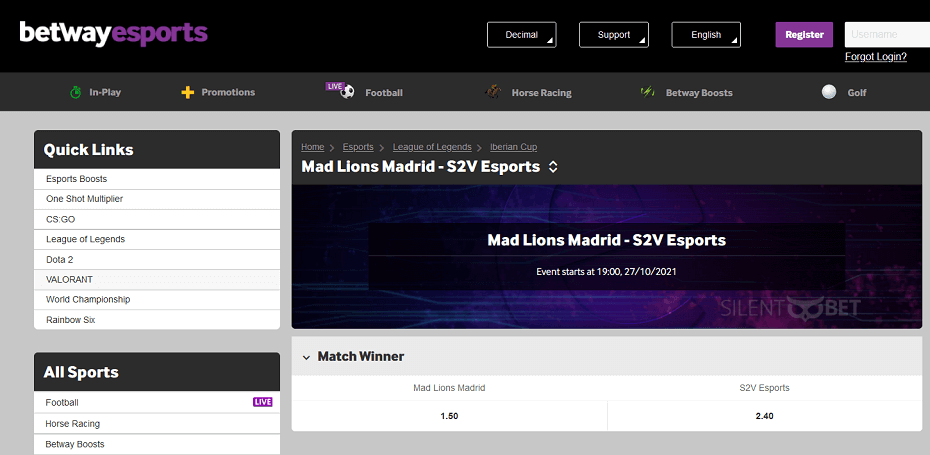 This brand is always one of the first places people go to when they want to bet on League of Legends. The iGaming operator Betway made a name for itself as one of the best eSports betting platforms. Thanks to the bonuses, multiple markets, some of the highest odds, and valuable features, Betway's clients will have loads of fun.
Pros
Sometimes, there are LoL promotions
A wide variety of markets for this computer game
Good odds
Live Streaming is available for some LoL events
Cons
Accessing Betway in some countries is not always possible
---
888sport
This is one of the go-to options for betting on eSports and League of Legends. Although the operator 888sport does not have a special section for these titles, it offers good odds. Moreover, there are even eSports bonuses that you may be able to use while wagering on LoL.
Pros
eSports bonus that may be available for LoL
Competitive odds for betting on League of Legends
You can use different features
Cons
Not enough markets for LoL
---
Bwin
This bookie is an exciting choice for LoL betting enthusiasts. Although Bwin is not an eSports-focused online bookmaker, the brand offers a stand-alone section. Of course, it allows you to punt on every top-rated LoL event and offers a respectable number of events. On top of that, Bwin will enable you to wager on live LoL matches.
Pros
Live LoL betting
A good number of markets for LoL
You can punt on numerous League of Legends tournaments
Cons
There are no LoL betting bonuses
---
22bet
If you want to bet on pre-match and live League of Legends tournaments, 22bet is one of the best options for you. As one of the leading LoL betting sites, you can expect to try out intriguing markets and avail yourself of the best odds. 22bet is also accessible in several countries, making it the preferred option for some LoL punters.
Pros
Outstanding odds for LoL
A solid range of markets for this computer game
An eSport section that allows you to punt on live LOL events
Cons
Although there are some offers, the bookie lacks LoL promotions
---
BetWinner
This online bookmaker has to be one of the best iGaming companies when it comes down to the options. League of Legends fans will realize that BetWinner will allow them to wager on almost every event. Furthermore, BetWinner has some of the most lucrative betting markets in the industry, some of which are not available elsewhere. It also offers several promos for League of Legends.
Pros
Unique betting markets for League of Legends
Plenty of handy features that can help you while punting
High odds for LoL
Special promotions for LoL
Cons
LoL punters may need to use an alternative link to access the bookie
---
1xBet
One of the League of Legends betting sites that you could put to the test is called 1xBet. The latter has become a household name in the business. Hence, it shouldn't be surprising it offers good LoL betting options. Interestingly, 1xbet is among the few iGaming companies where you can punt on random LoL matches when there are no major tournaments.
Pros
You have access to way more LoL matches to bet on
A solid range of markets for this eSport
Competitive odds for League of Legends
Cons
Although 1xbet offers many offers, there are no long-term promotions for this MOBA
---
Ranking Criteria for Choosing the Best LOL Betting Sites
Choosing from the best LOL Betting sites usually requires you to check a few things. To make the process easier for you, we've highlighted some of the essential aspects below.
A wide range of betting markets: If you want to bet on League of Legends, it is advisable to find a platform that offers a wide range of markets. By choosing such a bookie, you guarantee yourself that there will always be an interesting option to punt on.
High odds: Whether you want to wager on League of Legends or another eSport title, it is recommended to find a bookmaker that offers high odds. Even though most operators provide good LoL odds, others won't live up to your expectations.
eSports bonuses: League of Legends is one of the biggest eSports titles, but this doesn't mean the bookies offer any promos. Even though some people don't use bonuses, usually, it is better to have access to at least a few offers.
Multiple LoL events: Everyone interested in LoL betting should try to find a bookie that offers multiple tournaments. Sometimes, the iGaming platforms may also allow you to punt on random LoL events.
---
League of Legends Betting 101
Betting on League of Legends is not complicated, but there are a few things you may want to know before you start doing it.
LoL Wagers – Quick Facts
Since League of Legends is often thought to be the biggest eSport, it plays a vital role for many bookies. So, don't be surprised if you notice some brands pay special attention to their LoL betting fans.
What is Skin Betting?
Skin Betting in League of Legends allows people to wager with cosmetic items instead of using real money. Although it may sound lucrative, most online bettors are not interested in it due to the high number of scam sites.
Helpful LOL Tips
Having access to helpful LoL betting tips is always a plus, even if you have a lot of experience. Despite the fact that we can't point out everything you should know, there are a few things that we'd like to share.
Do not bet on a given team without checking its previous results
Like other MOBAs, League of Legends is a game where each team's previous performance matters. Hence, it is always recommended to check the previous results of a given LoL squad prior to wagering on it.
Use the LoL-specific betting markets only if you have enough experience
Besides the options you can find on other sports, some bookmakers offer specific betting markets for LoL. Although their odds are usually lucrative, it is not recommended to use them unless you have a lot of experience.
Try to take advantage of the betting features
The majority of gambling websites for League of Legends offer different kinds of betting features. Not all of them are worth it, but some will come in handy. For example, you can use Cash Out while punting on live LoL matches to settle your bet.
Read the latest news about the meta
League of Legends is a game where updates can significantly impact a given team's performance. Therefore, you should try to stay up to date with the latest meta news.
---
Step-By-Step Guide to LOL Betting
Once you check the recommended League of Legends betting sites, you have to know what to do in order to start betting. By following the step-by-step guide below, you can start wagering in no time.
Choose one of the bookies we recommend in this article
Even though other iGaming operators might be worth it, the ones listed in this article stand out. You can expect loads of betting options, good odds, and helpful features regardless of which one you go for.
Go through the registration procedure
After choosing your preferred operator, you have to complete the registration process if you don't have an account yet. Although there are some similarities, each online bookie has a different procedure you have to go through.
Check the payment options and choose the most appropriate alternative
To bet on LoL, you need to make a deposit. So, after completing the registration process, head over to the payment section to check the available options.
Pick one of the markets and place a bet
Some League of Legends events will offer more markets than others. Once you compare the odds and decide which one to test, place a bet, and use some of the available features. Usually, the bookies offer Live Streaming and Cash Out.
---
LOL Markets
Once you check some of the LoL betting sites, you will have the chance to try out several markets. Although some are also available if you punt on other sports, there are also LoL-exclusive options.
Map Winner
Total Maps
Correct Score
Race to Kills
Kills Handicap
First Dragon
---
How to Find the Best LoL Bonuses from Bookmakers?
To find the best lol bonuses from bookmakers, you need to check at least a few different iGaming operators. Even though most operators do not offer any specific LoL betting promos, you may come across some of the options below.
Free Bets
Free bets allows you to place a bet on League of Legends without using your own deposit. Despite being a sought-after promotion, you won't find it on many iGaming websites.
LoL Odds Boost
Having the opportunity to wager on a market with boosted odds is always a plus, especially for League of Legends. However, these rewards might have additional conditions that you have to be aware of.
Cashback
Some eSports bookmakers are aware that not everyone has experience in punting on League of Legends. So, after you check the LoL betting lines and decide which market to use, you may have access to a cashback bonus.
---
What are League of Legends Odds Like?
The League of Legends odds are usually good compared to those available for other traditional sports. However, this largely depends on which online bookmaker you choose.
Data is solely based on a snapshot of the listed bookies and their average odds payut percentage during May 2022
---
League of Legends Sites Pros & Cons
While it is true that the League of Legends betting sites mentioned in this article are excellent, they are by no means perfect. The pros and cons listed below will help you decide whether these bookmakers are worth it.
Pros
The websites offer multiple LoL-exclusive betting markets
Every LoL platform has good odds for this eSport
Sometimes, you can use bonuses for betting on League of Legends
The features help will help you after you start punting on League of Legends
Cons
Some of the LoL betting sites do not offer that many options for regular sports
Accessing some of the LoL betting sites is not always possible
---
Major LoL Events to Punt On
Punters interested in LoL betting predictions know that some of them focus on a particular event. Although there are numerous League of Legends tournaments you can bet on, some are more attractive than others.
League of Legends World Championships
The League of Legends World Championship (commonly referred to as 'Worlds") is the game's most prestigious tournament. The fact that it brings together the best teams globally makes it the ideal event to bet on. Sometimes, bookmakers offer different markets and exclusive short-term promotions during the competition.
Local & International Cups
Betting on Tier 2 local and international events is risky, but if you want to try out something different, you will have the chance to do so. Some of the world's best betting websites for LoL offer multiple smaller tournaments you can bet.
League Championship Series (LCS)
The LCS is the most popular League of Legend event in North America, apart from "Worlds". Similar to other Riot Game-organized tournaments, this one is divided into two splits. After the season ends, the best-performing teams qualify for the League of Legends World Championship.
---
Live Wagers on League of Legends
Like other eSports titles, live wagers on League of Legends is one thing that makes this game so popular among punters. Users interested in LOL live betting have the chance to put their skills to the test, regardless of which bookie they choose. Wagering on live LoL matches gives you access to new markets and dynamic odds. Moreover, every reputable iGaming operator with an In-Play category offers a few handy features listed below.
Live Streaming: Courtesy of one of the biggest eSports live streaming platforms, almost every betting website for LoL offers this feature. It will allow you to watch the action live, which means you can make better decisions while punting.
Cash Out: This is another feature that is used by people who punt on live League of Legends matches. Since this eSport is fast-paced, the balance of power can shift in a matter of seconds. Fortunately, Cash Out lets you settle your bet preemptively.
Results from a poll carried out among Silentbet's readers in 2022
---
Mobile LOL Betting Sites
Nowadays, many online bettors use their computers to bet on League of Legends. Although this has its advantages, it seems like mobile LOL betting is becoming the new norm. Mobile betting on League of Legends has a lot of benefits compared to standard wagering. For example, punters don't need to stay in front of their computers for up to several hours just so they can punt on a live LoL match. All they need is a reliable Android or iOS device capable of opening the bookie's mobile site or app.
In some cases, wagering while being on the go will give you access to different LoL betting stats and special features.
---
Are Crypto Platforms Better for LoL Punting?
No, crypto platforms are not better for LoL punting, at least not yet. Finding a crypto bookmaker is not a bad idea because you will have access to innovative features. Usually, it is safe to bet on LOL with Bitcoins, but you have to be careful because some iGaming operators are not regulated by any gambling authorities.
For better or worse, not all LoL betting sites offer crypto payments. The good news is that some companies provide a wide range of payment solutions, including digital currencies.
---
Silentbet's Top Pick for LoL Bookie
The best LOL bookmaker, according to Silentbet, is Loot.bet because of the site's user-friendly design and tons of markets. You don't have to be an experienced LoL punter to avail yourself of the things this brand has to offer. Although there might not be any long-term LoL betting offers, Loot.bet makes up for it by having an extensive selection of markets.
Good selection of esports
Cash-out and live streams
Helpful customer support
Live Betting
Casino
Live Streaming
Cashout
E-Sports
---
The Bottom Line
Picking the best League of Legends bookmaker requires you to go through several things. Thankfully, this article covers every aspect you should be aware of before choosing your new eSports bookmaker. All of the operators we've included have proven themselves to be among the best gambling sites for League of Legends, so it is up to you to decide which one is worth it.
---
LoL Betting Sites FAQ
Where can I find the best LOL odds?
Betting sites that offer good odds for LOL betting are GGbet, Betway and Loot.bet.
How does League of Legends match betting work?
League of Legends match betting requires you to pick one of the many LoL events and place a bet on a specific market.
Is betting on League of Legends legal?
Yes, betting on League of Legends is legal, but you need to find a regulated online bookmaker.
How to bet on LoL?
To bet on LoL, you need an online bookie that offers this eSport.
Should I trust some of the League of Legends betting guides?
Yes, you can trust some of the League of Legends betting guides, but only if they are created by credible tipsters.